Free Australia Wide delivery on orders over $599
Come in and Visit Us: 241 High St, Northcote VIC 3070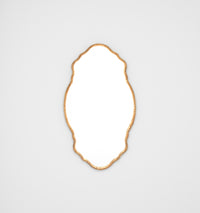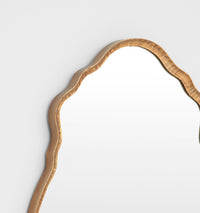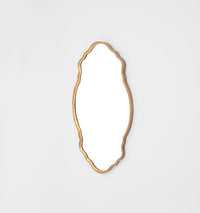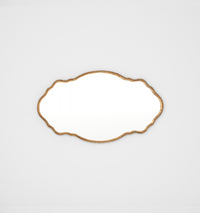 Boutique Gold Mirror
Product Info
This elegant mirror is the perfect addition to a hallway or bedroom.
These mirrors have been hand crafted, therefore there may be variations that make your individual item truly one-of-a-kind.
The Boutique mirror can be hung in two directions.
Dimensions
Product dimensions (W x H x D): 92 x 53 x 3 cm
Product weight: 7 kg

Details and materials
Mirrored glass, iron frame, engineered wood backing.

We advise contacting a professional picture hanger to install your mirror with the correct wall fixtures for your specific wall type.

Please note that the image shown of the back of this mirror is intended as a guide only. Placement of hanging fixtures varies slightly from product to product. This image should not be relied upon to take measurements from and is not necessarily to scale.

This product is imported.

Product care
When opening, to avoid damage do not place this product directly on a hard surface. This product is hand finished and can be easily damaged if not handled with care. Carefully read the hanging instructions and care label on the back of this mirror before hanging.

To clean, wipe the mirror surface with a cloth dampened in water then buff the mirror surface dry with a second lint-free cloth. Lightly dust the frame as necessary. Do not spray any liquids directly onto the mirror surface. Do not use any liquid cleaners that contain corrosive chemicals such as ammonia, products like Windex, or acids such as vinegar. Do not allow any liquids to come into contact with the frame.

This product may be adversely effected by high humidity areas, including bathrooms and other wet areas. This product is not designed or warranted for commercial use.

Welcome
Despatch timeframe for prints only: 
All prints are custom printed per order.
For A1, A2, A2, A4 sized prints, please allow 1 business day for dispatch 
For Medium, Large and Extra Large size prints, up to 1 week printing processing required before dispatch.
Australia courier cost:
| | | | |
| --- | --- | --- | --- |
| Print size | Cost | Dispatch time | Delivery time |
| A1, A2, A3, A4 | $10 | 1 business day | 1-3 business days |
| Medium, Large | $15 | 1 week | 1-3 business days |
| Extra Large | $20 | 1 week | |
| Framed prints | Qoute | 2-3 weeks | 1-3 business days |
All framed prints are custom printed and framed per order. 
The process can take between 2-3 weeks maximum. Shipping quoted per order. 
Worldwide shipping is available for all prints, please contact for quote.
Returns & Exchanges: 
We are happy to offer an exchange or return on all prints and framed prints.
To be eligible, prints and framed prints must be returned and received within 7 days of delivery in brand new condition.
Returns payment will be refunded via the original payment method.
Returns and exchanges shipping cost is at the expense of the purchaser.